Violin playing is one of the most interesting musical activities. The specific abilities that are required bring the violinist into the position to approach the high ideal of the human voice and also the brilliance of piano technique. It takes time and persistence before this synthesis can lead to artistic results which are then capable of surpassing the possibilities of many other instruments.
The large repertory of great works in the solo, chamber, and orchestral genres make the violin one of the most important instruments of Western music.
Notes regarding my career as violinist:
I had my first violin lessons with my father Joe Staar, a pupil of Professor Krehan in Graz, who came from the school of Josef Joachim. In the course of extensive study with Franz Samohyl I was able to explore the Viennese school of violin playing. I was then a guest student of Anja Ignatius in Helsinki, a pupil of Carl Flesch and Jacques Thibaut. She familiarized me with the French school of violin playing. My participation in the master classes of Nathan Milstein allowed me to experience the Russian violin tradition and the school of Leopold Auer.
From 1974 to 1981 I played numerous concerts with piano and with orchestra, including the Wiener Symphoniker under the direction of Daniel Nazareth, the Wiener Kammerorchester, the Orchestre de Chambre de Lausanne, etc. Since 1988 I am a member of the Vienna Philharmonic and thereby also of the Vienna State Opera Orchestra. I founded and I direct the Ensemble Wiener Collage, with which I have in the past 30 years premiered many works, as violinist and also as conductor.
Since many years I have been, in conjunction with my pedagogical activities, working on a comprehensive violin method.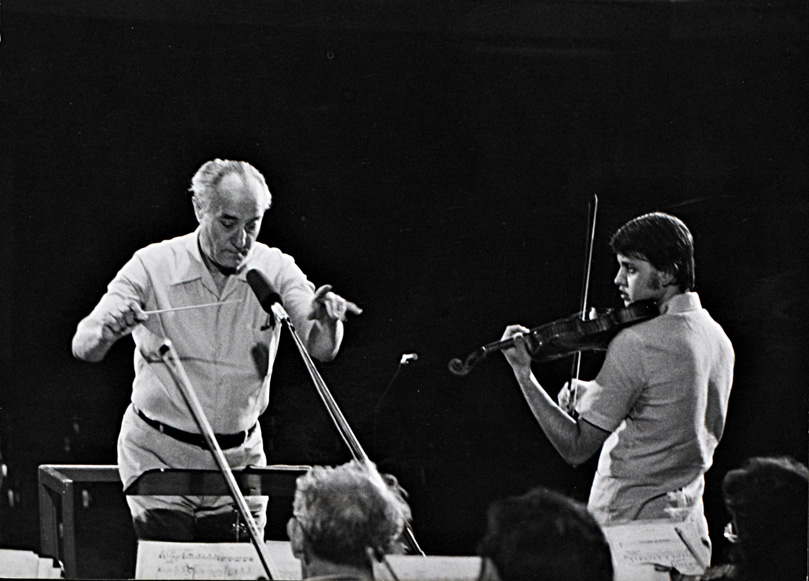 René Staar, János Ferencsik, Hungarian National Philharmonic, Carintischer Sommer 1975