Neubauer and Piirto playing Staar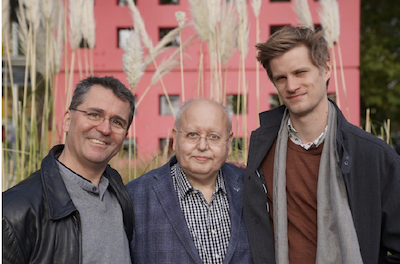 My Five Ballades for Clarinet and Piano op. 22o and the world premiere of the Study for Solo Clarinet "Lo-Shu" op. 29 I No. 2 will be the focus of an exciting concert to be held at the Arnold Schönberg Center on September 26, 2023: two works that contrast strongly in their layout and emerged from fundamentally different musical concepts. 
If the ballads follow more a romantic concept of "narrative music" as developed by Chopin, Schumann or Mendelssohn, the clarinet study follows more a modern architectural-mathematical principle that emerged from the study of the Lo-shu, the only magic square of order 3. In doing so, both works make use of special part-writing techniques, which situate them in the realm of the New music. Due to their density, size and compactness, they also represent an important contribution to the clarinet literature, although the latest playing techniques are used only very sparingly.
Its performers Stefan Neubauer (clarinet) and Johannes Piirto (piano) are very familiar with my work and have already earned great merits for its dissemination.
The sheet music of the Ballades op. 22o is published by Edition Contemp Art (Verlagsgruppe Hermann) and distributed by Schott (order option). 
Rescheduled world premiere of "Schwarzer Schnee"
The world premiere of René Staar's oratorio Schwarzer Schnee [Black Snow] op. 22q, a commission from the Tonhalle Düsseldorf for its Human Rights Concert 2022, scheduled for March 19, 2022, had to be postponed due to corona.
Instead, the work will now be premiered on May 3, 2024 at the Tonhalle Düsseldorf, along with a performance of Robert Schumann's 4th Symphony.
Soloists will be Marisol Montalvo (soprano) and Sylvie Rohrer (narrator). The Chorus of the Städtischer Musikverein zu Düsseldorf and the Düsseldorf Symphony Orchestra will be conducted by David Reiland. Enikő Ginzery will play the cimbalom part.
The concert will be repeated on May 5 and 6.
International Distribution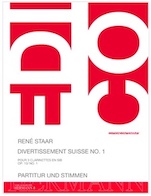 FINALLY! HERE WE GO!!!
The sheet music of more than 60 of my works and arrangements is now available and can be ordered internationally, both as e-sheet music (PDF) and as printed copies, thanks to a cooperation of my publishing house Edition Contemp Art (Verlagsgruppe Hermann, Vienna) with Schott Music in Mainz.
In the entries of the individual works on staar.at you will find links to the ordering option from Schott (an overview can be found here).
The publication of further compositions of mine, spanning four decades, is in preparation.
Composition commission from Adelheid Schneider-Gilg and Felix Schneider

In the fall of 2022, the Swiss private patrons Adelheid Schneider-Gilg and Felix Schneider commissioned me to compose a larger chamber music work. The work, with the working title "Divertissement Suisse No. 6", is to be composed for string sextet, clarinet, baritone saxophone and alphorn (or horn) by mid-2023.
The commission is intended to complete the cycle of Divertissements Suisses, which will comprise six chamber music works in various instrumentations.
Friedrich Cerha and Toshi Ichiyanagi
The Ensemble Wiener Collage and I share many creative and personal memories of the composers Toshi Ichiyanagi, who died in Tokyo on October 7, 2022 at the age of 89, and Friedrich Cerha, who passed away in Vienna on February 14, 2023 at the age of 96. Both composers wrote pieces for the ensemble, and I cultivated an intensive personal collaboration with both of them.
Friedrich Cerha played a significant role in my earliest experiences with New Music, especially as a lecturer of a New Music seminar at the then Vienna Academy of Music. In 1996 he conducted the world premiere and two subsequent performances of his Concertino for violin, accordion and ensemble in Vienna, Linz and Paris, in which Alfred Melichar (accordion) and I played the solo parts. Later I conducted this work myself with changing soloists. I also had the opportunity to rehearse the works Deux éclats en reflexion and Formation et solution with the master himself, Cerha in turn conducted performances of my work Das wachsende Schloss op. 13/1. My piece Jam Session "for Fritz" op. 14/6 was written as a tribute to him.
There were also many artistic connections with Toshi Ichiyanagi, culminating in two concert tours of the Ensemble Wiener Collage to Japan and three Vienna guest performances of the Tokyo International Music Ensemble (TIME), which Ichiyanagi directed. Several works by Ichiyanagi, who studied in the United States with John Cage and was married to Yoko Ono in his first marriage, were premiered by Ensemble Wiener Collage. In 1996, at the festival Wien Modern, TIME premiered Kodai-no-ibuki (from op. 30) a work for violin and traditional Japanese instruments.
Commission for the Human Rights Concert 2022
René Staar was commissioned by the Tonhalle Düsseldorf to write a new work for the annual Human Rights Concert established by Adam Fischer. The work is entitled »Schwarzer Schnee« [Black Snow] and is scored for soprano, speaker, Hungarian Cimbalom, choir and orchestra. The selected texts address the struggle for press freedom. 
The planned world premiere for March 19, 2022, with Marisol Montalvo, Sylvie Rohrer, the Choir of the Städtischer Musikverein zu Düsseldorf and the Düsseldorf Symphony Orchestra conducted by Adam Fischer, had to be postponed due to corona measures. It is rescheduled for May 2024.
A new year: compositions of 2021
In the past year, two pieces were added to the cycle of Studies for Strings op. 27: the study for viola and 2 cellos »Pendulum of Life« op. 27 III B no. 2, and the study for violin, viola and cello »Breathless Anxiety« op. 27 III C no. 1.
Two of the molds of Monumentum pro Thomas Alva Edison op. 34 were also completed with two movements each: the 2nd mold for violin, B-flat clarinet, tenor saxophone, and piano (1998-2021), and the 3rd mold for string trio (1998-2021). 
The commissioned work Black Snow [Schwarzer Schnee] op. 22q for soprano, narrator, cimbalom, chorus and orchestra was written for Adam Fischer's Human Rights Concert that will take place in March 2022 in the Tonhalle Düsseldorf.
Another "Homage" was also added to the Homages cycle Op. 14: Brief Definition - A Memorial for Eugene Hartzell op. 14/14 for clarinet and piano.
In addition, two further works were written for the Op. 22q cycle: the Evoluzioni op. 22q septies, a 25-minute quintet; and the Condizioni op. 22q octies, six pieces for celesta, percussion, harp and cimbalom.
Wladimir Pantchev - Friend and cherished collaborator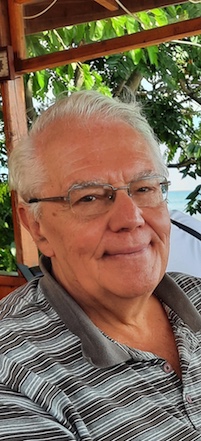 Vladimir Pantchev passed away quite suddenly, in his sleep, on September 8, 2021. He was born in Sofia in 1948 and had lived in Vienna since 1991, and was a close friend and important contributor to the Ensemble Wiener Collage (EWC). The tragedy of his son dying in the same way just a few months earlier had taken its toll on him. 
In addition to being a loyal friend to me and the EWC I co-founded, he was also an active collaborator within the ensemble both in terms of its organization as well as the scope of its repertory. Thus, he arranged for the ensemble to perform several times in Bulgaria, and was active in its committees; but above all, he enriched the repertory of the ensemble with his own works.
The strength of his musical language lay above all in his ability to create an immediate, unique mood in each of his works and to maintain that mood throughout a composition. In doing so, he made use of heterophonic techniques typical of the folk music of his native country.*
The first work he wrote for us was the Hommage à Denisov for clarinet, saxophone, violin and piano, composed in 1996/97. It is a work that is often performed by the EWC, and whose atmosphere is permeated by Bulgarian folklore. It concludes with an invocation of large church bells rooted in the Orthodox tradition of Eastern European faith – a late echo of Mussorgsky's Boris Godunov.
The Quartets cycle, written in 1998-2000, is a monumental chamber music project that explores the possibilities of quartet playing in 16 very different pieces with sometimes adventurous instrumentations, and has provided material for future projects by the EWC. This was followed in 2001-2004 by concertante works for double bass, trombone, flute and trumpet. His works Koléda and Kukeri, based on Christmas traditions and old fairy tales, were particularly impressive. A new concertante work was being developed during the two months before his passing; unfortunately, it can no longer be completed.
It fills me with pride to have been involved in the creation of many of his works. Vladimir's compositions offer important and exciting material not only to the EWC, but also to other ensembles. It is part of the musical tradition of Eastern Europe – a tradition that has been concealed from us for so long, and which oftentimes continues to be neglected and not fully recognized, although many of its characteristics are gradually coming into our field of vision.
that so long hidden from us, often neglected and still not fully recognized musical tradition of Eastern Europe, from which many details are only slowly coming into our field of vision. Vladimir Pantchev's work is necessary within a European context. It is imperative to make his work accessible to the wider public now.
* For an in-depth appreciation of his work, see my essay in Voices of Diversity, Vienna, 2018.
We will miss him. On the death of Harald Ossberger.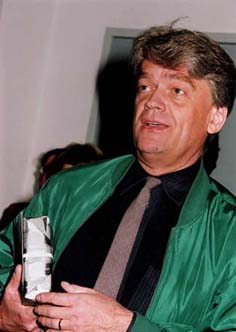 In almost 14 years of collaboration, during which he was my most important piano partner (between 1979 and 1992), Harald became a friend who accompanied me not only as a violinist, but also in my explorations as a composer. 
I can recall many unforgettable shared experiences with this great artist and human being. These include Berg's Chamber Concerto, which we performed several times in France together with Peter Burwik's ensemble XX. jahrhundert– including an open-air concert at the Maeght Foundation in St. Paul de Vence, where we competed with croaking frogs and chirping crickets! Also memorable are the many rarities we performed and recorded all over Europe, including sonatas by Johann Wolfgang Korngold, Bruno Walter, Albert Roussel, the 2nd Sonata by Camille Saint-Saëns, and the Duo by Franz Liszt.
Our shared love for contemporary music and music of the 20th century Modernism played a major role in our collaboration: works by Bela Bartók, George Enescu, Schönberg and Webern, but also by Austrian composers such as Erich Urbanner, Robert Schollum and Friedrich Cerha, were part of our repertory. In addition, I enjoyed his support as a partner in performing my own compositions for many years.
During that time, Harald also became an acclaimed performer of chamber music, and collaborated with the great violinist Henryk Szeryng. Especially memorable was his first appearance with Szeryng in the Golden Hall of the Vienna Musikverein in 1979, as well as a concert in an obscure casino near Geneva. He also collaborated with Josef Sivó, Florian Kitt, and many others, and was a member of a piano trio for several decades. Most recently, he had devoted himself to piano literature for four hands together with Christos Marantos. A commissioned composition for the two was our last artistic collaboration together.
Harald was also well known as a passionate educator. This proved to be significant for my Ensemble Wiener Collage, since he once recommended to us one of his students, Johannes Marian, who has been the ensemble's permanent pianist for almost three decades. To me, Harald was both a source of inspiration and a close personal friend. He cannot be replaced by anything or anyone. He will be missed very much by everyone who knew him and had the opportunity to work with him.
René Staar and Harald Ossberger perform Staar's Epilogue to »Just an Accident?« op. 9 ter
Staar and Ossberger perform Staar's Hommage à und temps perdu op. 6
Staar and Ossberger perform Erich Urbanner, 5 Pieces for Violin and Piano
New works during the lockdown
A whole series of new compositions have been written during the past year and a half. You can find more information about them here:
Metaphysical Jazz op. 22q bis (2019/20) consists of twelve pieces for solo accordion and is dedicated to Alfred Melichar. A performance of the fifth and sixth pieces from the cycle can be heard in a live stream on March 21, 2021.The concert will be available until April 11th. 
... von dieser Sterneinsamkeit zu jener Sterneinsamkeit ... op. 22q ter [… from this solitude of the stars to that solitude of the stars …] (2019) for solo harp is an arrangement of the fourth piece from Metaphysical Jazz. It was written for Gabriele Mossyrsch, who already premiered it on January 19, 2020.
The short Invention en bleu pour piano op. 22q après quinquies (2020) was created as a contribution to an as of yet unfinished YouTube video that addresses the question: "What is an invention?"
The Pensées op. 22q quater (2019/20) are two interrelated cycles of ultra-short miniatures: the first cycle (A) for violin and piano left hand, the second cycle (B) for "piano three hands", that is, for piano for twohands and piano left hand on the same instrument.
A new piece was also added to the Studies for Strings op. 27: a study for string trio entitled »Atemlose Beklemmung« ["Breathless Anxiety"] op. 27 III C Nr. 1 (2021). It was written under the impression of TV images showing the invasion of the United States Capitol in Washington, D.C. by American right-wing extremists and fascists on 6 January 2021.
The very recently completed Evoluzioni op. 22q septies (2020/21) are six pieces for Hungarian cimbalom and string quartet.