»Para la Wiener Kammerorchester, Philippe Entremont y Rudolf Buchmann«
For chamber orchestra
Duration: ca. 12 minutes
First version: 1981/83 (withdrawn by the composer)
Premiere: 8 March 1983 (Brucknerhaus in Linz), played by the Wiener Kammerorchester, conducted by Chihiro Hayashi
Definitive version: 1990
Premiere: 14 December 1991, Vienna Konzerthaus, played by the Wiener Kammerorchester, conducted by Philippe Entremont

Published by Edition Contemp Art (Verlagsgruppe Hermann),
Obtainable via www.schott-music.com
Product number: VGH 47-12 (Score)
Product number: LVGH 47 (Hire/performance material)

Audio sample:
René Staar - Movimientos para Don José Haydn
(Live-Recording, premiere of the definitive version, 1991)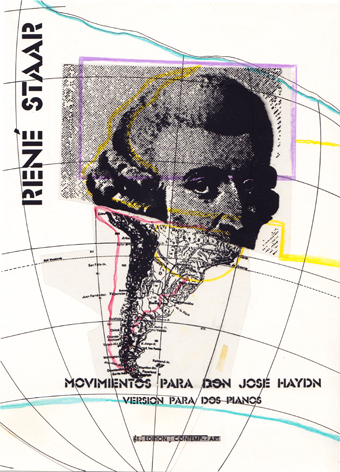 Version for 2 pianos / Versión para dos pianos op. 8a (1983)
»Para Angelica Mendez y Carlos Rivera«
Published by Edition Contemp Art (Verlagsgruppe Hermann),
Obtainable via www.schott-music.com
Product number: VGH 138-70
About the piece:
Miguel had done it. For months he had listened to the same recording and had read the book the gringos call a score. It had been difficult, very difficult, for Miguel could hardly read music.
He remembered very well how astonished he had been when the stranger had handed him the record and the book at the hazienda, where Miguel was frequently invited by the patrón to sing his songs, accompanying himself on the guitar. »Have you heard of Haydn?« Miguel had suddenly been asked. Miguel had never heard of the composer whom he soon came to love, and whom he respectfully called »Don José«. For months, almost a year, he worked on a score, and then he finished: his Movimientos para Don José Haydn. He was proud of having done something like Haydn and of having put a few of the rhythms of his homeland into it. Don José was going to find out how much he revered on the other side of the globe. The parcel with the new score had already been sent. Miguel didn't know the exact address, but he was sure that »Don José Haydn, Vienna« would be enough. He didn't know that Haydn had been dead for more than 150 years.
Shortly after the composer René Staar returned to Europe from a tour of Latin America in 1981 he was commissioned to write for the Vienna Chamber Orchestra for Joseph Haydn's 250th birthday in 1982. A spontaneous vision of a Latin America folk musician without academic knowledge, but with a great deal of autodidactic ability and talent, led him to create »Miguel«, who composed the Movimientos as René Staars intermediary.
The similarity to Haydn is restricted solely to the formal imitation of a Haydn symphony. The musical language (harmony, rhythm, melodic structure, etc.) is virtually not affected. Miguel's efforts to emulate Haydn lead – naively in the best sense – to completely different results.
Just as Miguel sent his parcel to Haydn too late, were the Movimientos finished too late for the Haydn anniversary year. They were first performed in the year of Haydn's 251st birthday.