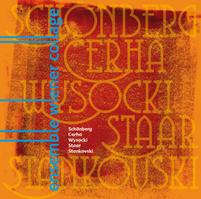 On this new CD, the Ensemble Wiener Collage, conducted by René Staar, performs Arnold Schoenberg's Five Orchestral Pieces op. 16 in the composer's own version for chamber ensemble (first recording). In addition, the Ensemble performs works by Friedrich Cerha, Zdzisław Wysocki and Alexander Stankovski.
The CD also contains a recording of the Austrian premiere of Staar's composition The growing castle, which took place on 11 March 1996 at the Vienna Konzerthaus.
The CD launch will take place at the Arnold Schönberg Center, on 28 October 2014.